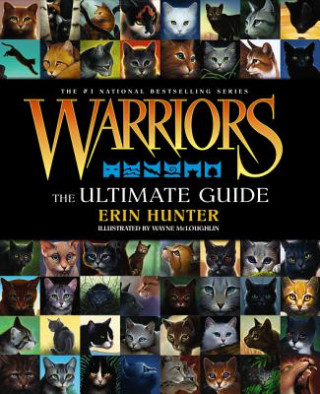 Kód: 02434780
Warriors: The Ultimate Guide
This is the ULTIMATE gift for Warriors fans who have followed the series for years and those who are just getting to know the cats. Chock full of never-before-seen information about the cats , and featuring gorgeous full-color i ... celý popis
17.38 €
Bežne: 22 €
Ušetríte 4.62 €

Skladom u dodávateľa
Odosielame za 3 - 5 dní
Pridať medzi želanie
Mohlo by sa vám tiež páčiť
Darčekový poukaz: Radosť zaručená
Darujte poukaz v ľubovoľnej hodnote, a my sa postaráme o zvyšok.
Poukaz sa vzťahuje na všetky produkty v našej ponuke.
Elektronický poukaz si vytlačíte z e-mailu a môžete ho ihneď darovať.
Platnosť poukazu je 12 mesiacov od dátumu vystavenia.
Viac informácií o knihe Warriors: The Ultimate Guide
Nákupom získate 41 bodov
Anotácia knihy
This is the ULTIMATE gift for Warriors fans who have followed the series for years and those who are just getting to know the cats.
Chock full of never-before-seen information about the cats , and featuring gorgeous full-color interior art as well as a fold-out poster (on the first printing only), this is a must-have companion book.
Parametre knihy
Zaradenie knihy Knihy po anglicky Children's, Teenage & educational Children's / Teenage fiction & true stories Fantasy & magical realism (Children's / Teenage)
Celý názov: Warriors: The Ultimate Guide
Autor: Erin Hunter
Edícia: Warriors, warriors
Jazyk: Angličtina
Väzba: Pevná
Počet strán: 256
EAN: 9780062245335
ISBN: 0062245333
ID: 02434780 Nakladateľ: HarperCollins Publishers Inc
Hmotnosť: 846 g
Rozmery: 239 × 193 × 22 mm
Dátum vydania: 09. apríl 2015
Obľúbené z iného súdka
---
O tomto obchode




Nákupný poradca
Prehľady
Knihy podľa jazyka
---
---
Všetky knihy sveta na jednom mieste. Navyše za skvelé ceny.

Nákupný košík ( prázdny )
---