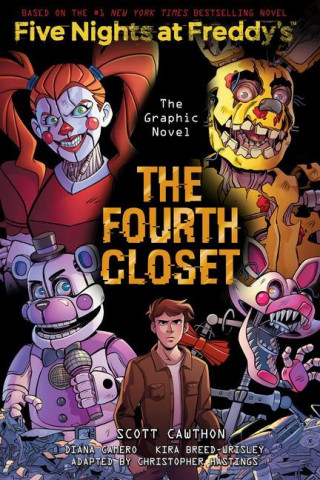 Kód: 35542386
Fourth Closet (Five Nights at Freddy's Graphic Novel 3)
From the creator of the horror video game sensation Five Nights at Freddy's comes this pulse-pounding graphic novel adaptation of the bestselling trilogy's thrilling conclusion! What really happened to Charlie? It's the question t ... celý popis
10.18 €
Bežne: 12.68 €
Ušetríte 2.50 €

Skladom u dodávateľa
Odosielame za 3 - 5 dní
Pridať medzi želanie
Mohlo by sa vám tiež páčiť
Darčekový poukaz: Radosť zaručená
Darujte poukaz v ľubovoľnej hodnote, a my sa postaráme o zvyšok.
Poukaz sa vzťahuje na všetky produkty v našej ponuke.
Elektronický poukaz si vytlačíte z e-mailu a môžete ho ihneď darovať.
Platnosť poukazu je 12 mesiacov od dátumu vystavenia.
Viac informácií o knihe Fourth Closet (Five Nights at Freddy's Graphic Novel 3)
Nákupom získate 24 bodov
Anotácia knihy
From the creator of the horror video game sensation Five Nights at Freddy's comes this pulse-pounding graphic novel adaptation of the bestselling trilogy's thrilling conclusion! What really happened to Charlie? It's the question that John can't seem to shake, along with the nightmares of Charlie's seeming death and miraculous reappearance. John just wants to forget the whole terrifying saga of Freddy Fazbear's Pizza, but the past isn't so easily buried. Meanwhile, there's a new animatronic pizzeria opening in Hurricane, along with a new rash of kidnappings that feel all too familiar.Bound together by their childhood loss, John reluctantly teams up with Jessica, Marla and Carlton to solve the case and find the missing children. Along the way, they'll unravel the twisted mystery of what really happened to Charlie, and the haunting legacy of her father's creations. Told through delightfully scary artwork from artist Diana Camero With even more horror than ever before Fans won't want to miss this graphic novel adaptation straight from the mind of Five Nights at Freddy's creator Scott Cawthon.
Parametre knihy
Celý názov: Fourth Closet (Five Nights at Freddy's Graphic Novel 3)
Autor: Scott Cawthon
Edícia: Five Nights at Freddy's, five-nights-at-freddy-s
Jazyk: Angličtina
Väzba: Brožovaná
Počet strán: 192
EAN: 9781338741162
ISBN: 1338741160
ID: 35542386
Nakladateľ: Scholastic
Hmotnosť: 376 g
Rozmery: 129 × 197 × 22 mm
Dátum vydania: 03. marec 2022
---
O tomto obchode




Nákupný poradca
Prehľady
Knihy podľa jazyka
---
---
Všetky knihy sveta na jednom mieste. Navyše za skvelé ceny.

Nákupný košík ( prázdny )
---