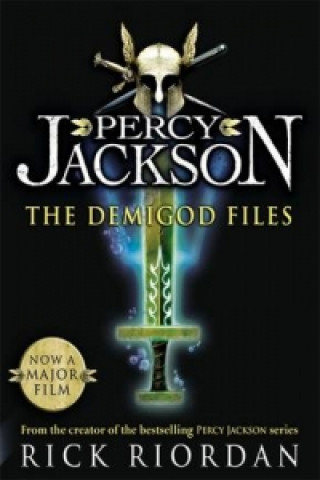 Kód: 04028241
Percy Jackson: The Demigod Files
The Demigod Files: the perfect companion to Rick Riordan's Percy Jackson series. The perfect companion to this megaselling series - essential reading for all young demigods! In these top-secret files, Rick Riordan, Camp Half-Blo ... celý popis
8.22 €
Bežne: 9.48 €
Ušetríte 1.26 €

Skladom u dodávateľa
Odosielame za 3 - 5 dní
Pridať medzi želanie
Mohlo by sa vám tiež páčiť
48.01 € -6 %
24.70 € -16 %
8.80 € -19 %
9.65 € -19 %
12.59 € -16 %
12.59 € -16 %
9.65 € -19 %
10.18 € -17 %
13.04 € -21 %
13.45 € -20 %
13.79 € -15 %
8.40 € -21 %
13.62 € -19 %
8.80 € -19 %
8.80 € -19 %
8.80 € -19 %
Darčekový poukaz: Radosť zaručená
Darujte poukaz v ľubovoľnej hodnote, a my sa postaráme o zvyšok.
Poukaz sa vzťahuje na všetky produkty v našej ponuke.
Elektronický poukaz si vytlačíte z e-mailu a môžete ho ihneď darovať.
Platnosť poukazu je 12 mesiacov od dátumu vystavenia.
Viac informácií o knihe Percy Jackson: The Demigod Files
Nákupom získate 20 bodov
Anotácia knihy
The Demigod Files: the perfect companion to Rick Riordan's Percy Jackson series.
The perfect companion to this megaselling series - essential reading for all young demigods! In these top-secret files, Rick Riordan, Camp Half-Blood's senior scribe, gives you an inside look at the world of demigods that no regular human child is allowed to see. These highly classified archives include three of Percy Jackson's most perilous adventures, a Spotter's Guide to Monsters, a Who's Who in Greek mythology, Percy's Summer Camp report and much more.
So, if you're armed with this book, you'll have everything you need to know to keep you alive in your training. Your own adventures have just begun...Rick Riordan has now sold an incredible 55 million copies of his books worldwide
Praise for the Percy Jackson series:
"Witty and inspired. Gripping, touching and deliciously satirical...This is most likely to succeed Rowling. Puffin is on to a winner". (Amanda Craig, The Times).
"Puns, jokes and subtle wit, alongside a gripping storyline". (Telegraph).
"Perfectly paced, with electrifying moments chasing each other like heartbeats". (New York Times).
Rick Riordan is an award-winning mystery writer. For the past fifteen years he has taught at middle schools in the San Francisco Bay area and in Texas. Rick lives in San Antonio, Texas, with his wife and two sons. Percy Jackson and the Lightning Thief, the overall winner of the Red House Children's Book Award, was Rick's first novel featuring the heroic young demigod. The Percy Jackson series: The Lightning Thief; The Sea of Monsters; The Battle of the Labyrinth; The Titan's Curse; The Last Olympian Heroes of Olympus: The Lost Hero; The Son of Neptune; The Mark of Athena The Kane Chronicles: The Red Pyramid; The Throne of Fire; and The Serpent's Shadow.
Parametre knihy
Zaradenie knihy Knihy po anglicky Children's, Teenage & educational Children's / Teenage fiction & true stories Fantasy & magical realism (Children's / Teenage)
Celý názov: Percy Jackson: The Demigod Files
Podnázov: Percy Jackson and the Olympians
Autor: Rick Riordan
Edícia: Percy Jackson, percy-jackson
Jazyk: Angličtina
Väzba: Brožovaná
Počet strán: 176
EAN: 9780141329505
ISBN: 0141329505
ID: 04028241 Nakladateľ: Penguin Random House Children's UK
Hmotnosť: 118 g
Rozmery: 177 × 127 × 11 mm
Dátum vydania: 07. január 2010
Obľúbené z iného súdka
---
O tomto obchode




Nákupný poradca
Prehľady
Knihy podľa jazyka
---