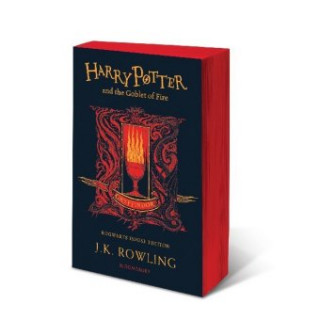 Kód: 24629318
Harry Potter and the Goblet of Fire - Gryffindor Edition
Let the magic of J.K. Rowling's classic Harry Potter series take you back to Hogwarts School of Witchcraft and Wizardry. This Gryffindor House Edition of Harry Potter and the Goblet of Fire celebrates the noble character of the Ho ... celý popis
8.57 €
Bežne: 10.51 €
Ušetríte 1.94 €

Očakávaný dotlač
Termín neznámy
Pridať medzi želanie
Mohlo by sa vám tiež páčiť
Darujte túto knihu ešte dnes
Objednajte knihu a vyberte Zaslať ako darček.
Obratom obdržíte darovací poukaz na knihu, ktorý môžete ihneď odovzdať obdarovanému.
Knihu zašleme na adresu obdarovaného, o nič sa nestaráte.
Informovať o naskladnení knihy
Zašleme vám správu akonáhle knihu naskladníme
Zadajte do formulára e-mailovú adresu a akonáhle knihu naskladníme, zašleme vám o tom správu. Postrážime všetko za vás.
Viac informácií o knihe Harry Potter and the Goblet of Fire - Gryffindor Edition
Nákupom získate 20 bodov
Anotácia knihy
Let the magic of J.K. Rowling's classic Harry Potter series take you back to Hogwarts School of Witchcraft and Wizardry. This Gryffindor House Edition of Harry Potter and the Goblet of Fire celebrates the noble character of the Hogwarts house famed for its courage, bravery and determination. Harry's fourth year at Hogwarts is packed with more great Gryffindor moments and characters, including Harry's unexpected selection as champion in the Triwizard Tournament - not to mention Hagrid's misadventures with Blast-Ended Skrewts!
Each Gryffindor House Edition features vibrant sprayed edges and intricate gold foiling. The Goblet of Fire blazes at the very centre of the front cover, framed by stunning iconography that draws on themes and moments from this much-loved story. In addition to a bespoke introduction and exclusive insights into the magical paintings of Hogwarts, the book also boasts new illustrations by Kate Greenaway winner Levi Pinfold, including a spectacular portrait of Hogwarts' gamekeeper, Rubeus Hagrid.
All seven books in the series will be issued in these highly collectable, beautifully crafted House Editions, designed to be treasured and read for years to come. A must-have for anyone who has ever imagined sitting under the Sorting Hat in the Great Hall at Hogwarts waiting to hear the words, 'Better be GRYFFINDOR!'
Parametre knihy
Celý názov: Harry Potter and the Goblet of Fire - Gryffindor Edition
Autor: Joanne Kathleen Rowling
Edícia: Harry Potter, harry-potter
Jazyk: Angličtina
Väzba: Brožovaná
Počet strán: 640
EAN: 9781526610287
ISBN: 1526610280
ID: 24629318
Nakladateľ: Bloomsbury Publishing
Hmotnosť: 640 g
Rozmery: 130 × 197 × 39 mm
Dátum vydania: 23. január 2020
---
O tomto obchode




Nákupný poradca
Prehľady
Knihy podľa jazyka
---
---
Všetky knihy sveta na jednom mieste. Navyše za skvelé ceny.

Nákupný košík ( prázdny )
---