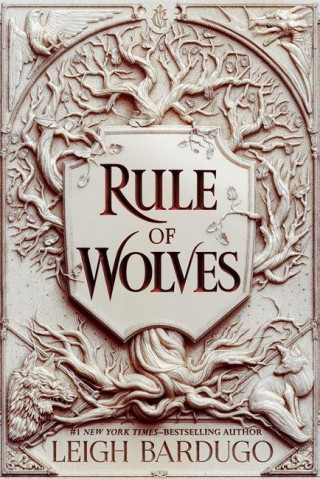 Kód: 33450831
Rule of Wolves (King of Scars Book 2)
The wolves are circling and a young king will face his greatest challenge in the explosive finale of the instant #1 New York Times-bestselling King of Scars Duology. The Grishaverse will be coming to Netflix soon with Shadow and B ... celý popis
17.03 €
Bežne: 21.02 €
Ušetríte 3.99 €

Skladom u dodávateľa
Odosielame za 5 - 8 dní
Pridať medzi želanie
Mohlo by sa vám tiež páčiť
Darčekový poukaz: Radosť zaručená
Darujte poukaz v ľubovoľnej hodnote, a my sa postaráme o zvyšok.
Poukaz sa vzťahuje na všetky produkty v našej ponuke.
Elektronický poukaz si vytlačíte z e-mailu a môžete ho ihneď darovať.
Platnosť poukazu je 12 mesiacov od dátumu vystavenia.
Viac informácií o knihe Rule of Wolves (King of Scars Book 2)
Nákupom získate 43 bodov
Anotácia knihy
The wolves are circling and a young king will face his greatest challenge in the explosive finale of the instant #1 New York Times-bestselling King of Scars Duology. The Grishaverse will be coming to Netflix soon with Shadow and Bone, an original series! The Demon King. As Fjerda's massive army prepares to invade, Nikolai Lantsov will summon every bit of his ingenuity and charm - and even the monster within - to win this fight.But a dark threat looms that cannot be defeated by a young king's gift for the impossible. The Stormwitch. Zoya Nazyalensky has lost too much to war.She saw her mentor die and her worst enemy resurrected, and she refuses to bury another friend. Now duty demands she embrace her powers to become the weapon her country needs. No matter the cost.The Queen of Mourning. Deep undercover, Nina Zenik risks discovery and death as she wages war on Fjerda from inside its capital. But her desire for revenge may cost her country its chance at freedom and Nina the chance to heal her grieving heart.King. General. Spy.Together they must find a way to forge a future in the darkness. Or watch a nation fall. Read all the books in the Grishaverse! The Shadow and Bone Trilogy (previously published as The Grisha Trilogy) Shadow and Bone Siege and Storm Ruin and Rising The Six of Crows Duology Six of Crows Crooked Kingdom The King of Scars Duology King of Scars Rule of Wolves The Language of ThornsThe Lives of Saints Praise for the Grishaverse "A master of fantasy." -The Huffington Post "Utterly, extremely bewitching." -The Guardian "The best magic universe since Harry Potter." -Bustle "This is what fantasy is for." -The New York Times Book Review "[A] world that feels real enough to have its own passport stamp." -NPR "The darker it gets for the good guys, the better." -Entertainment Weekly "Sultry, sweeping and picturesque.. . .Impossible to put down." -USA Today "There's a level of emotional and historical sophistication within Bardugo's original epic fantasy that sets it apart." -Vanity Fair "Unlike anything I've ever read." -Veronica Roth, bestselling author of Divergent "Bardugo crafts a first-rate adventure, a poignant romance, and an intriguing mystery!" -Rick Riordan, bestselling author of the Percy Jackson series
Parametre knihy
Na knihu zľava pre
ISIC/ITIC držiteľov
17.03 €
Celý názov: Rule of Wolves (King of Scars Book 2)
Autor: Leigh Bardugo
Jazyk: Angličtina
Väzba: Pevná
Počet strán: 528
EAN: 9781510104488
ISBN: 1510104488
ID: 33450831 Nakladateľ: Hachette Book Group
Rozmery: 222 × 138 mm
Dátum vydania: 30. marec 2021
---
O tomto obchode




Nákupný poradca
Prehľady
---
Osobný odber Bratislava, Banská Bystrica, Košice, Žilina a 1223 dalších
Pri poskytovaní služieb nám pomáhajú súbory cookies. Používaním našich služieb vyjadrujete súhlas ich užívaním. Viac informácií
---
Sme tu pre vás ako obvykle. Zákaznícka podpora a doručenie zásielok bez obmedzenia.

Nákupný košík ( prázdny )
---