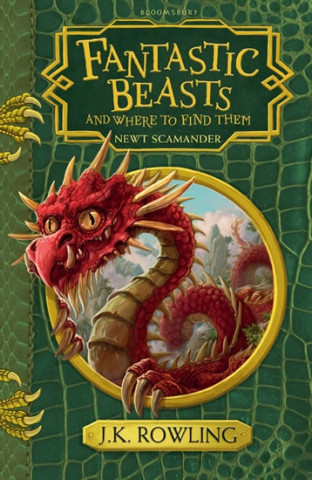 Kód: 18311025
Fantastic Beasts and Where to Find Them
An approved textbook at Hogwarts School of Witchcraft and Wizardry since first publication, Fantastic Beasts and Where to Find Them is an indispensable guide to the magical beasts of the wizarding world. Muggles who have seen the ... celý popis
8 €
Bežne: 9.99 €
Ušetríte 1.99 €

Skladom u dodávateľa
Odosielame za 3 - 5 dní
Pridať medzi želanie
Mohlo by sa vám tiež páčiť
Darčekový poukaz: Radosť zaručená
Darujte poukaz v ľubovoľnej hodnote, a my sa postaráme o zvyšok.
Poukaz sa vzťahuje na všetky produkty v našej ponuke.
Elektronický poukaz si vytlačíte z e-mailu a môžete ho ihneď darovať.
Platnosť poukazu je 12 mesiacov od dátumu vystavenia.
Viac informácií o knihe Fantastic Beasts and Where to Find Them
Nákupom získate 19 bodov
Anotácia knihy
An approved textbook at Hogwarts School of Witchcraft and Wizardry since first publication, Fantastic Beasts and Where to Find Them is an indispensable guide to the magical beasts of the wizarding world. Muggles who have seen the eponymous film or read the Harry Potter novels will be familiar with some of these beasts - the Niffler, the Thunderbird, the Hippogriff ...
This new paperback edition features the recently revised 2017 text, which includes six curious new creatures that inhabit the North American continent, and a new foreword from Newt Scamander that sheds fascinating light on the events surrounding a serious breach in the International Statute of Secrecy which took place in New York in the 1920s. This new paperback edition features gorgeously shimmery snakeskin detail on the foil effect jacket and line illustrations throughout by Tomislav Tomic.
Newt Scamander's masterpiece has entertained wizarding families through the generations. Witches, wizards and Muggles of all ages will delight in discovering the extraordinary habits and habitats of magical beasts from across five continents. 
Parametre knihy
Zaradenie knihy Knihy po anglicky Children's, Teenage & educational Children's / Teenage fiction & true stories Fantasy & magical realism (Children's / Teenage)
Celý názov: Fantastic Beasts and Where to Find Them
Podnázov: Newt Scamander
Autor: Joanne Kathleen Rowling
Edícia: Harry Potter, harry-potter
Jazyk: Angličtina
Väzba: Brožovaná
Počet strán: 144
EAN: 9781408896945
ISBN: 140889694X
ID: 18311025 Nakladateľ: Bloomsbury Publishing
Hmotnosť: 146 g
Rozmery: 129 × 197 × 11 mm
Dátum vydania: 25. január 2018
Obľúbené z iného súdka
---
O tomto obchode




Nákupný poradca
Prehľady
Knihy podľa jazyka
---
---
Všetky knihy sveta na jednom mieste. Navyše za skvelé ceny.

Nákupný košík ( prázdny )
---