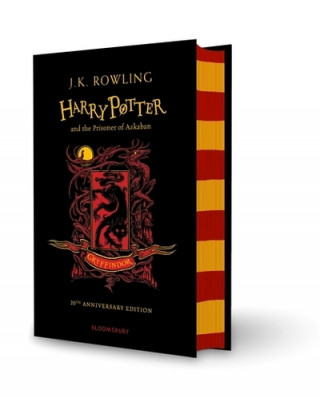 Kód: 21287154
Harry Potter and the Prisoner of Azkaban - Gryffindor Edition
Let the magic of J.K. Rowling's classic Harry Potter series take you back to Hogwarts School of Witchcraft and Wizardry. Issued to mark the 20th anniversary of first publication of Harry Potter and the Prisoner of Azkaban, this ir ... celý popis
17.87 €
Bežne: 24.32 €
Ušetríte 6.44 €

Skladom u dodávateľa
Odosielame za 3 - 5 dní
Pridať medzi želanie
Mohlo by sa vám tiež páčiť
Darčekový poukaz: Radosť zaručená
Darujte poukaz v ľubovoľnej hodnote, a my sa postaráme o zvyšok.
Poukaz sa vzťahuje na všetky produkty v našej ponuke.
Elektronický poukaz si vytlačíte z e-mailu a môžete ho ihneď darovať.
Platnosť poukazu je 12 mesiacov od dátumu vystavenia.
Viac informácií o knihe Harry Potter and the Prisoner of Azkaban - Gryffindor Edition
Nákupom získate 44 bodov
Anotácia knihy
Let the magic of J.K. Rowling's classic Harry Potter series take you back to Hogwarts School of Witchcraft and Wizardry. Issued to mark the 20th anniversary of first publication of Harry Potter and the Prisoner of Azkaban, this irresistible Gryffindor House Edition celebrates the noble character of the Hogwarts house famed for its courage, bravery and determination. Harry's third year at Hogwarts is packed with thrilling Gryffindor moments, including the appearance four of its most memorable alumni, Messrs Moony, Wormtail, Padfoot and Prongs! With vibrant sprayed edges in Gryffindor house livery, the book features beautiful house-themed cover artwork with intricate gold foiling. With an exciting, bespoke introduction exploring the history of Gryffindor House, and exclusive insights into the use of the Patronus Charm by favourite Gryffindor characters, the book also boasts a spectacular image by Kate Greenaway winner Levi Pinfold of Hermione Granger conjuring her Patronus. All seven books in the series will be issued in these highly collectable, beautifully crafted House Editions, designed to be treasured and read for years to come. A must-have for anyone who has ever imagined sitting under the Sorting Hat in the Great Hall at Hogwarts waiting to hear the words, `Better be GRYFFINDOR!'
Parametre knihy
Zaradenie knihy Knihy po anglicky Children's, Teenage & educational Children's / Teenage fiction & true stories Fantasy & magical realism (Children's / Teenage)
Celý názov: Harry Potter and the Prisoner of Azkaban - Gryffindor Edition
Autor: Joanne K. Rowling
Jazyk: Angličtina
Väzba: Pevná
Počet strán: 480
EAN: 9781526606167
ISBN: 152660616X
ID: 21287154 Nakladateľ: Bloomsbury Publishing
Hmotnosť: 482 g
Rozmery: 140 × 205 × 34 mm
Dátum vydania: 13. jún 2019
Obľúbené z iného súdka
---
O tomto obchode




Nákupný poradca
Prehľady
Knihy podľa jazyka
---
---
Sme tu pre vás ako obvykle. Zákaznícka podpora a doručenie zásielok bez obmedzenia.

Nákupný košík ( prázdny )
---